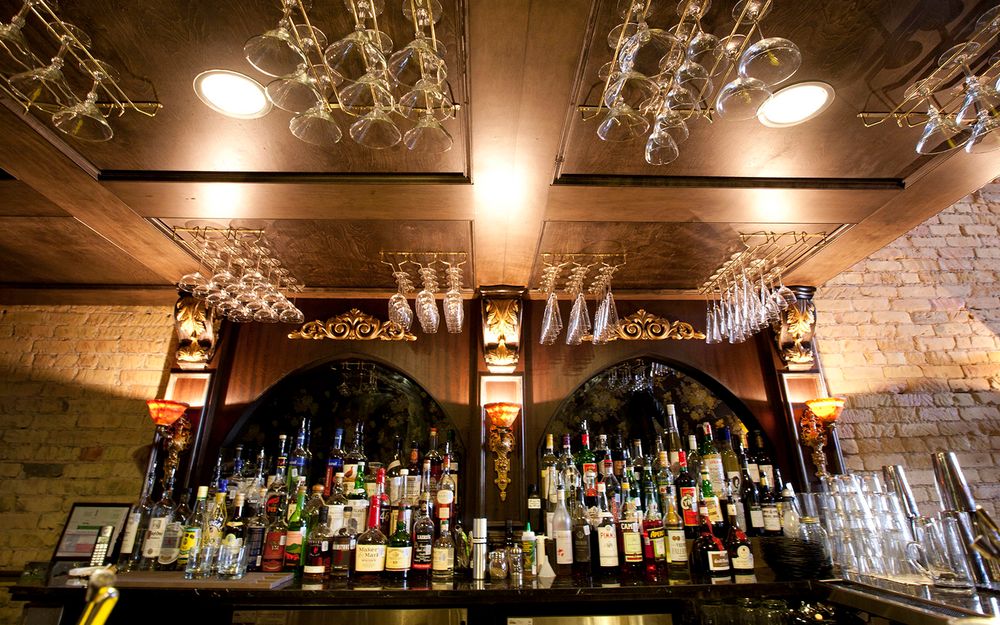 Menu ingredients are subject to change due to availability
Staff Creations and Curations
Aqua Dillenia
Created by Steve Guillen
El Tesoro Reposado, Aquavit, Passionfruit, Cucumber, Grapefruit Celery Salt. Isn't she lovely?
Backwoods Jackalope
Created by Ricky Arias
Jack Daniel's Tennessee Whiskey, Rittenhouse Bonded Rye, Poached Apple, Acidified Orange, Phosphate and Angostura Bitters. Jack be nimble, Jack be quick, our Backwoods Jackalope is what you've missed.
The Sleepy Dormouse
Created by Kyal Bippen & Caleb Weatherford
Apple Brandy, Gran Classico Aperitivo, Dry Vermouth, Peach, Black Tea, Thyme and Mesquite smoke. A tea party for the wisest in Wonderland.
El Fumado Pimiento
Created by Mat Wharton
Mezcal Union El Viejo Mezcal, Pisco, Arbol Chilies and Red Bell Peppers, Grapefruit, Richard's Rainwater. Ring your bell with this spicy yet refreshing creation.
Szechuan Plum Shiso Sour
Created by Steve Guillen
Reyka Vodka, Baijiu, Szechuan , Plum, Shiso, Yuzu soda. Shiso Fetch.
Clara Rosa
Created by Evan Mora
Gin Mare, Tarragon infused Vermouth, Rosemary, Thyme, Citric and Malic Acid, Sparking Wine, Tomato Water. Herb your Enthusiasm.
Chai Bella
Created by Brittany McMillan
Chai Tea infused Bacardi Ocho Rum, Blackstrap Rum, Apricot, Orange, Lactic Acid, Flaming Lime, Sugar, Spice & everything nice. And FIRE.
The Old Gardener
Del Maguey Vida Mezcal Amaro Montenegro, Dry Vermouth, Raspberry, Rhubarb, Welcome to the Secret Garden Club.
The Laureate
Created by Steve Guillen
Lillet Blanc, Lustau Manzanilla Sherry, Amaro Nonino, Dry & Sweet Vermouths, Bay Leaf, Smoked Salt & Pepper Tincture. A tale of Apollo's unrequited love.
Dirty Derby
created by Evan Mora
Basil Hayden Bourbon, Appleton Reserve Rum, Cynar, Apple Brandy, Blueberries & Mint, No risk No reward
Midnight Cowboy Classic Twists
Talk Dirty
Grey Goose, Tarragon Infused Dry Vermouth, Caperberries. For those that like it dirty, we see you.
Nom de Guerre
Knob Creek Rye, Black Walnut, Clove, Lime, Salt and Laphroaig Mist. King of the Cowboys.
The Millenial
Dutch Gin, Swiss Chocolate, French Fortified Wine, Egg White. Good for the gram.
De La Rosa (The Rosita)
El Tesoro Anejo Tequila, Campari, Amaro Montenegro, Rosa & Dry Vermouths, Bitters. A smooth move from Negroni.
Frog Cutter (Fog Cutter)
Hendrick's Gin, Monkey Shoulder Scotch, Clement Premiere Canne Rhum, Pineapple-Mango-Aloe (aka Frog Juice). Jump into a fresh twist on a tiki mainstay.
Palo Santo Flip (Lawn Tennis Cooler)
Saint Louise Brandy, Smith & Cross Rum, Creme de Banane, Toasted Coconut, Whole Egg, Ginger Beer. A funky flip on a forgotten classic.
Flim Flam (Hanky Panky)
Ki No Bi Gin, Aberfeldy 12 yr Herbaceous Exploration. Fernet About it.
Cascabel (Rattlesnake)
Wild Turkey 101 Rye, Rey Campero Espadin Mezcal, Toasted Spices, Mole Bitters, Egg White. Whiskey Sour with a Bite.